Evernorth Rural Ventures
Evernorth Rural Ventures (ERV), a qualified CDE, uses its NMTC resources to support investment in the economic, environmental, and social well-being of northern New England communities and its regional economies. NMTC funds are used to retain and create quality jobs and essential goods and services by financing key community developments in downtown and village centers and in other concerted community efforts that demonstrate positive impacts to low income persons and communities.
A variety of projects are eligible including, but not limited to retail and office space, health care, downtown housing over commercial space, manufacturing, community centers, forest and food processing, grocery stores and education. Prospective NMTC projects need to be located within a qualified census tract. Evernorth Rural Ventures targets the majority of its NMTC resources to rural areas within its service area.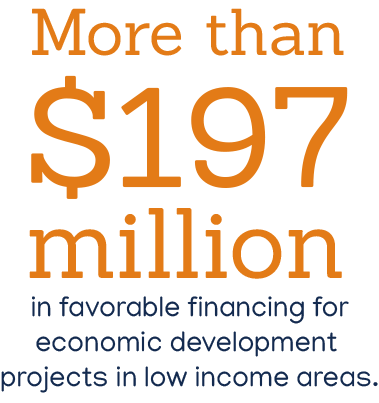 We encourage you to call Beth Boutin at (802) 863-8424, or use the contact form to send a message to learn more about Evernorth Rural Ventures and New Markets Tax Credits.
Is the NMTC right for me?
To see if the program may work for financing your business, please review the questions below.

In accordance with federal law and the U.S. Department of the Treasury policy, this institution is prohibited from discriminating on the basis of race, color, national origin, sex, age or disability. To file a complaint of discrimination, write to Department of the Treasury, Office of Civil Rights and Diversity, 1500 Pennsylvania Ave. NW, Washington D.C., 20220 or call (202) 622-1160.