In October 2018, Mayor David Allaire joined residents, funders, community members, and two affordable housing organizations to celebrate the completion of the Hickory Street Initiative. Speaking before a large gathering, Mayor Allaire stated, "We are very pleased as a City to see the transformation of this great neighborhood with the completion of Hickory Street. This impressive effort represents a major investment in Rutland which has clearly paid off."
Starting in 2008, the Rutland Housing Authority and Housing Vermont partnered on the $22.3 million redevelopment which created a total of 78 new rental homes in Rutland. Completed in three phases, over ten years, the new Hickory Street neighborhood replaced obsolete and isolated housing known as Forest Park.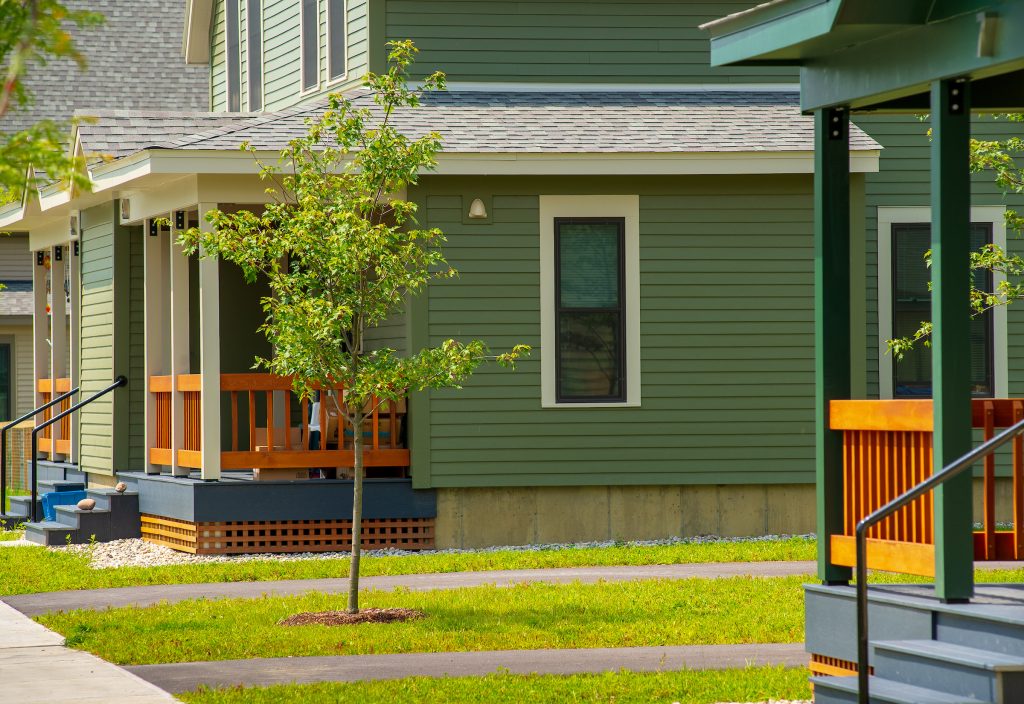 Hickory Street is now a vibrant mixed-income community with new streets and sidewalks, a community center, a playground, a park, and a lovely community garden. The buildings along Hickory Street have welcoming front porches and create an inviting streetscape. The new Hickory Street and Juneberry Lane are well integrated and cohesive with the surrounding neighborhoods.
Residents at Hickory Street reported feeling safer and less isolated in the new buildings. Neighbors noticed the difference as well, stating that the visible change in the quality of the housing enhanced the value of their own homes. This was consistent with a report by the Stanford Business School which indicated that, within 10 years of new housing developments being built in poorer neighborhoods, surrounding home prices increase by an average of 6.5% and crime is reduced.
Kevin Loso, Executive Director of the Rutland Housing Authority, expressed appreciation to the many individuals who participated in the redevelopment: from tenants, neighbors, and RHA staff, to city and state officials, the congressional delegation and the entire Rutland community.
"Residents have come to me, some in tears, to express their gratitude for their new apartments and neighborhood, sharing that they are proud to say they now live at Hickory Street," said Loso, observing the striking contrast from the stigma that was sometimes associated with living at the old Forest Park site.
Multiple funding sources were needed to complete this innovative project. Nearly half of the permanent financing came from equity investments made through Housing Vermont's Green Mountain Housing Equity Fund and TD Bank. TD Bank, Community Bank, and People's United Bank provided construction financing over the three phases.
According to Nancy Owens, President of Housing Vermont, the cooperation and financial support from Vermont Housing and Conservation Board, Vermont Housing Finance Agency and the Department of Economic, Housing and Community Development are equally important: "These agencies have specialized missions but work together to maximize scarce resources."
All the buildings at Hickory Street exceed Efficiency Vermont's "High Performance Track" for energy efficiency; each building has an excellent thermal envelope to minimize air infiltration, and to keep in heat during the cold winter months. Hickory Street also deployed renewable energy by installing a solar domestic hot water system for 21 apartments, and two wood pellet boilers for 35 of the apartments, which also heats the community building. By using solar and biomass, the Hickory Street neighborhood reduces reliance on fossil fuels to heat the homes.