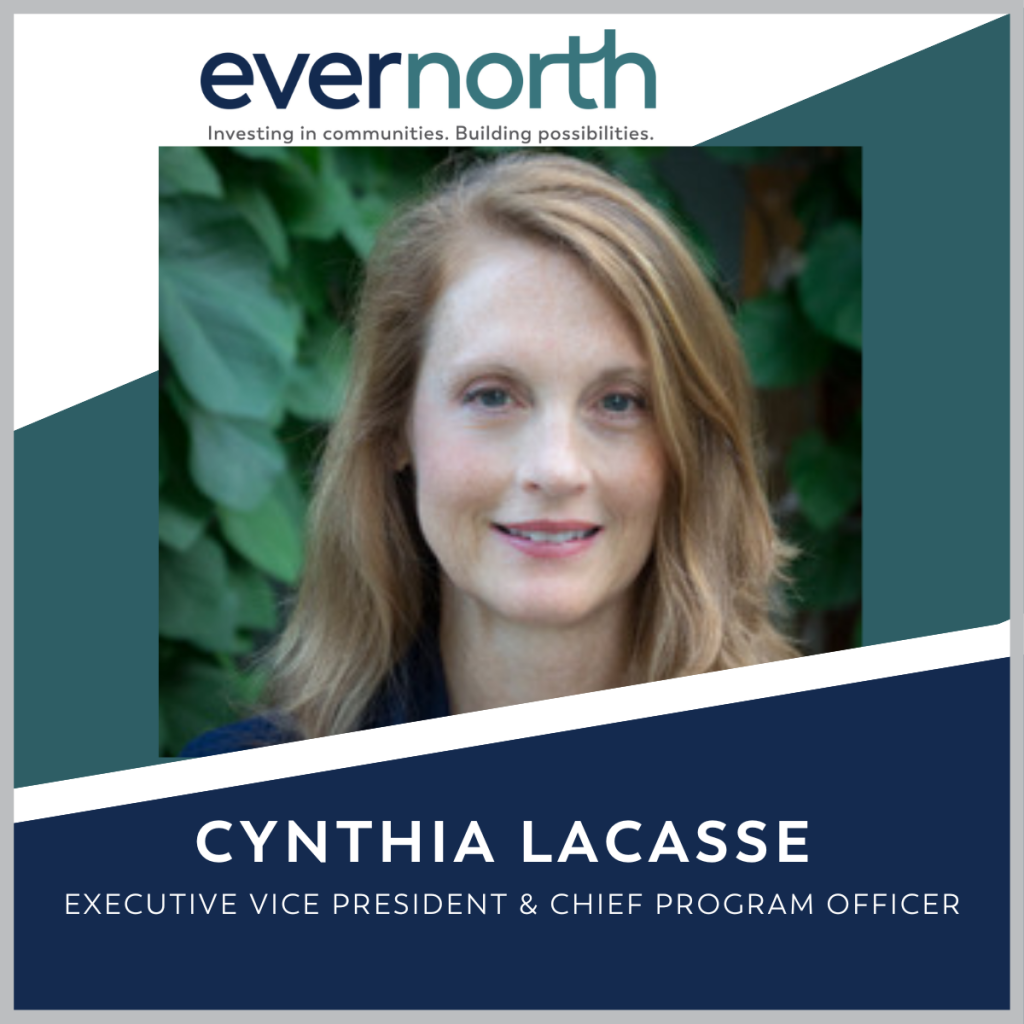 We are happy to announce that Cynthia (Cindee) Lacasse has accepted Evernorth's newly created position of Executive Vice President and Chief Program Officer. Ms. Lacasse will be joining us beginning May 29th. Cindee is an affordable housing industry leader with deep transactional knowledge and a commitment to Evernorth's mission. She will be based in Portland and serve a key, externally-facing role with Evernorth's investors, developers, and funders.
Ms. Lacasse joins Evernorth as an experienced real estate investment executive and business leader with expertise in real estate and affordable housing finance. She most recently served as the Senior Director of Rental Business Development at MassHousing, an independent, quasi-public agency that provides financing to developers who build and preserve affordable and mixed-income housing. As a member of the multi-family leadership team, she oversaw rental lending, marketing, origination, and program and product development. Prior to her work at MassHousing, Cindee was an executive at John Hancock Financial in Boston for many years, an independent consultant, also served as Partner and Senior Advisor for Boston-based Next Street, and was formerly at Boston Capital.
In her new role as Evernorth's Executive Vice President and Chief Program Officer, Cindee will have a direct hand in working with the President to help Evernorth deliver on its vision that all people in every community have an affordable place to live and opportunities to thrive. One of her primary responsibilities will be to plan for and raise capital for Evernorth's businesses. Cindee will oversee Evernorth's community investment and lending programs working closely with Beth Boutin, VP Community Investments and Deb Flannery, VP Lending. As a member of Evernorth's senior leadership, she will contribute to building internal organizational alignment related to originations strategy, external market dynamics, customer/client needs and organizational values and culture.
Cindee will be a strong asset to Evernorth in this new executive role, her longstanding track record of success in the affordable housing industry, relationship-centric leadership style and deep commitment to creating thriving communities for all will be invaluable to Evernorth in meeting our mission.